SUSTAINABLE HAIR SALON
At Julia Lampard we work in partnership with Davines. We only use products containing natural ingredients which are kind to the skin, hair and the environment. Like us, Davines is a successful independent family-run business who have retained their family values.
As well as helping clients with weak or fragile hair, we can also offer advice for those clients who have frizzy or hard to control hair. Our customers are at the heart of everything we do. We genuinely care about our clients, and we want them to have a wonderful experience with us.
We look forward to welcoming you to our salon.
Julia and the team.
ABOUT JULIA
Julia started her career aged sixteen, as an apprentice with Robert Fielding of Regent Street. Over the course of her career she has worked in salons both in the UK and the US. She has previously worked for 365 Salon and Toni & Guy in the UK. After gaining extensive experience with other hair salons, she decided to set up her own business in 1991 in Guildford. Since then, she has trained continuously with Vidal Sassoon, in order to keep up-to-date with the latest trends in the hair industry.
"Education is key. Whatever I learn, I share with my team. They will continue to grow and learn with me. The outlook being, the world is our oyster" – Julia Lampard.
Julia takes great pride in listening to her clients to ensure that she meets their requirements. Ultimately, she wants to create an experience that they will remember, and a hair-cut that they will love. Over the course of time, she has developed a special interest in developing personalised wigs for her clients who are experiencing some form of hair loss. Losing ones' hair can be a difficult and distressing time for anyone, but Julia has developed specialised hair-cutting and colouring techniques to help create hair styles which suit the clients' and their needs. Thus, her customers leave the salon feeling both empowered and confident.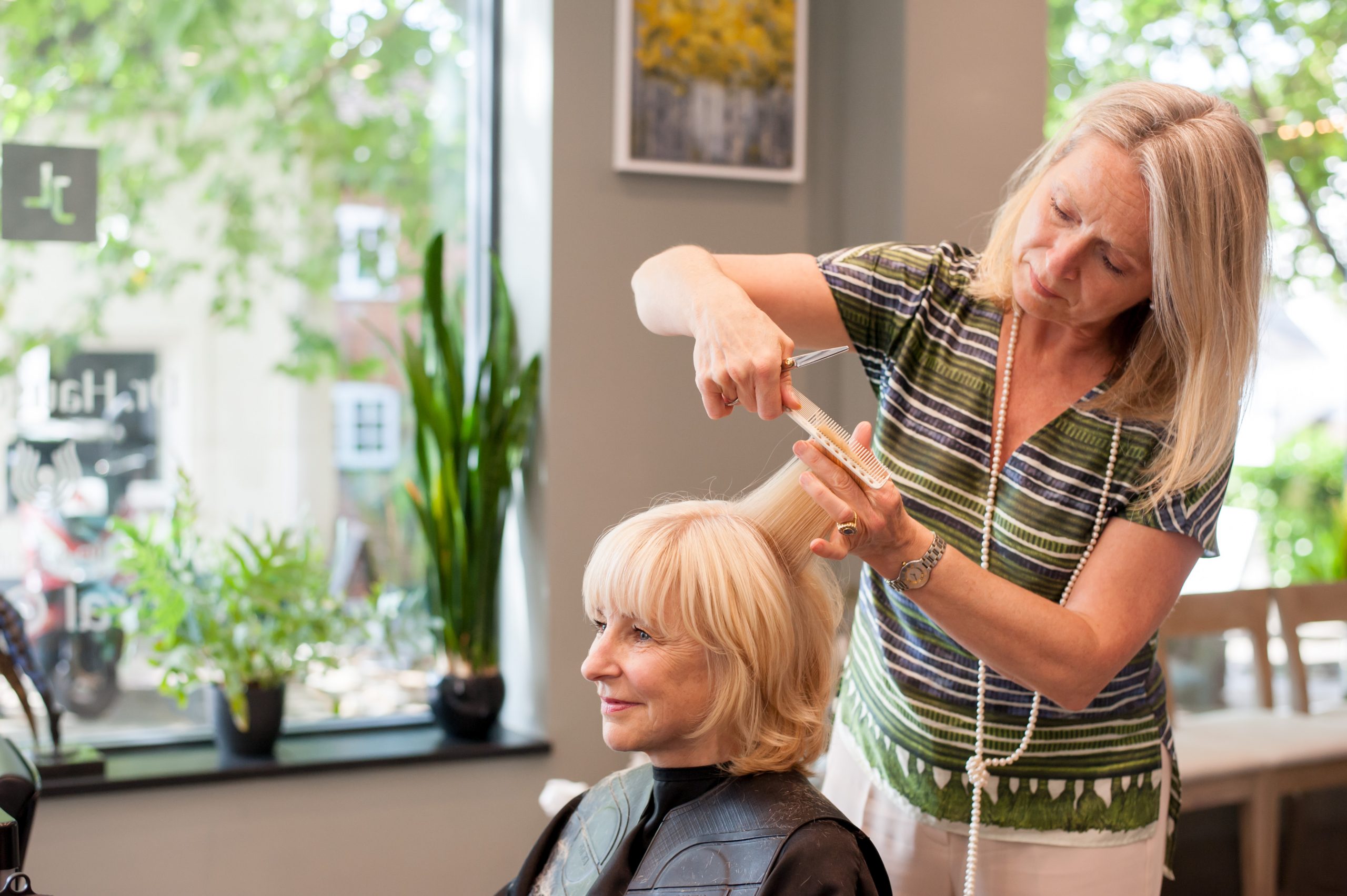 OUR MISSION
Our mission is to create beautiful hairstyles which are easy to maintain using natural, sustainable products. We only use materials which are kind to the hair and the environment.
At the Julia Lampard salon we are taking urgent action on climate change and have set goals for sustainability. Read more here.
ABOUT THE JULIA LAMPARD TEAM